:TO SEE PICTUR
ES AND VIDEOS CLICK HERE
OMG OMG OMG OMG
She wasss soo beautifulllll and amazing..
I was on the first row and she looked at me ,
sang for me and she gave me the stick of mark's drums....
I gave her a doll of frog and she smiled at me....

the show was stunning and pink even more...

i took to the show a large poster
HERE IS THE POSTER
When she went up stage she saw the poster and she smiled
."she was a little cold she had tea and some spray against coughing or a cold, she told us "it's really gross
on the song "what going on" she said "ok now I'm going to sing...if you don't know the lyrics the lyrics are: hey hey hey hey hey hey.." before she said that I screamed "what's going on" and she said :shhhhhh..(lol) and then I stock out my tong and said "la la la la "(hahah) so she said "***k" (hahaha) so everyone laughed
on the song "last to know" when the solo of mark on the drum ends she took the drum sticks and threw one of them to the other side and then she looked for me in the audience and she handed me the stick in her hand and the other side
(I have a video)
She stared at me almost the whole show.
in the song u+ur hand Justin looked at me and then I sang to him "it just you and your hand tonight.." and I put my hand up and down and then he laughed and I told him" Justin you are the best" and he said thank you lol
Mark looked at me a lot and smiled Adriana also..
Pink said thanks to everyone in three languages (Hebrew, Russian and English) she was really funny she also asked the audience if she said it right and then everyone said "yeahh" lol
Pink in Israelllll
Date: 1.25.08
"After a long waiting, we happy to inform about the arrival of the good artisan Pink.
She arrives this afternoon to Tel –Aviv.
Pink is came to do a show in the party of the billionaire Roman Abramovich .
The party will be in Tel-Aviv at the club Hangar 11 at Sunday night.
So if you aren't friends of Roman Abramovich you will need to satisfy with this thing."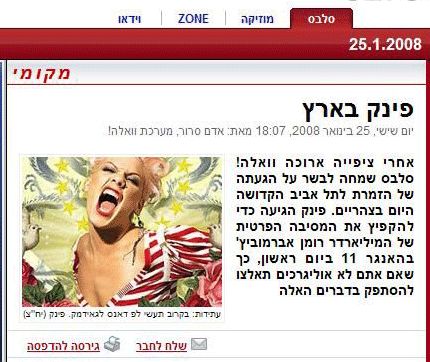 Pink will come to Israel
Date: 1.21.08